The Amazing 13′ Boler
The original Canadian built Boler moulded fibreglass trailer was introduced in 1968.  The design offered a simple and lightweight family travel trailer.
Made by joining two moulded fibreglass halves (top and bottom) created a water tight and extremely durable shell.  Inside is cozy yet comfortable, it include a stove, fridge or ice box, sink with hand pump. 
Sleeping for 4 is available by lowering the rear dinette table between the seats to create a double bed ,and the front gaucho converts into bunk beds.
General specifications:
Interior length – 10'
Interior height – 6' 1"
Interior width – 6' 6"
Overall length – 13'
Overall height – 6' 11"
Overall width – 6' 8"
Weight approx dry – 1000 lbs (base model with no options or consumables)
NOTE – average weight ready for camping – 1400- 1600 lbs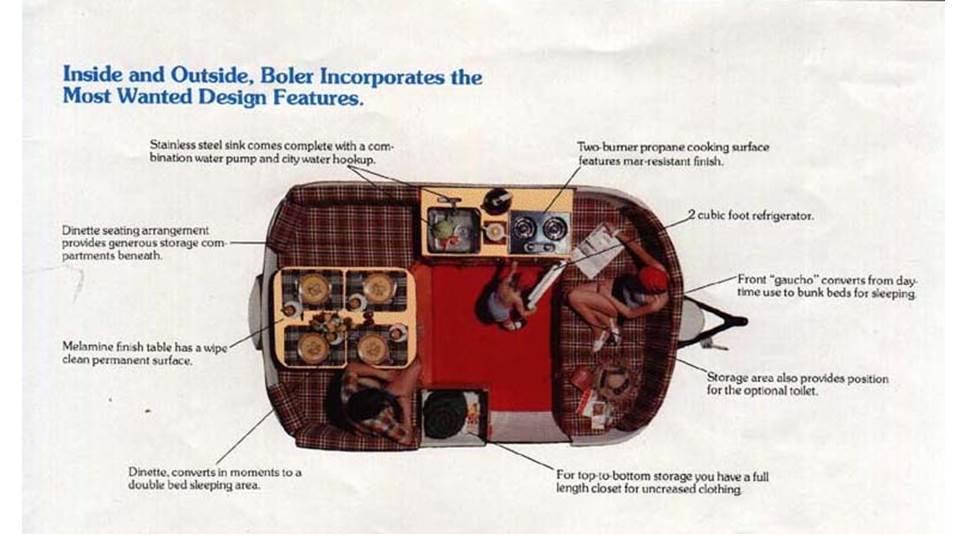 The following article is an excellent summary of the Boler's creator and history of this unique trailer.
Reprinted with permission from the author, Tom McMahon
Boler Trailers – a Winnipeg and Canadian Success Story
by Tom McMahon, July 2014 (Boler owner since 2012)
Note: this is a summary of information from various sources, including Winnipeg Free Press and Manitoba Business Journal article, obituaries for Ray Olecko and Sandor Dusa, and articles and summaries by Thomas Alan Gray, Jamie McColl, Levonne Gaddy and numerous contributions from various individuals posting to fiberglassrv.com, including a posting from Corrine Dusa, Sandor Dusa's widow. I have not fact-checked the information posted by these individuals. I invite any additional information or corrections at: [email protected]
The Boler ultralight fiberglass trailer – the famous "egg on wheels" – was invented and manufactured in Winnipeg, Manitoba. The Boler was manufactured and sold between 1968 and 1988, and approximately 10,000 units were sold. Although there were earlier fiberglass trailers in North America, it is the Boler that is credited with inspiring numerous manufacturers to create nearly identical trailers. As the baby boomers get tired of camping in tents, or are searching for a low-cost trailer for their retirement years, or hobbyists find a new muse from their childhood memories, or more likely, as the price of gas continues to increase, taking larger RV's off the road, the Boler and its imitators are increasing in popularity again. What may have once been viewed as a poor man's RV, Boler's are now cool; retro "glamping" (glamorous camping) is in style; and hobbyists are having a blast creating the most beautiful, personalized, lightweight trailers on the road. The Internet allows fiberglass RV owners to exchange restoration ideas and how-to information, buy and sell their trailers, show off their marvelous eggs and arrange for fiberglass meet-ups around North America. Check out www.fiberglassrv.com .
The Boler trailer was invented by Ray Olecko and the master molds created by Sandor Dusa. (Irwin Krieg was a third partner, but I have not found other information about him.)
Ray Olecko was born in Lamont, Alberta in 1930. He started boxing in his teens and went on to box in the Golden Gloves Amateur Championship. He spent three years in the Canadian Air Force in Ontario, Quebec and Labrador, but the love of his life was always design. He has had many designs patented and the first was a fiberglass sling shot that he sold worldwide. Olecko became interested in fiberglass and designed a septic tank for Structural Glass. On October 24, 1967 was issued patent # 770200 for a lightweight, cylindrical, expandable fiberglass septic tank with tapered ends. It was designed so the parts were nested together for shipping and bolted together in the proper configuration on the site. According to the patent description, this design offered substantial benefits over the concrete or steel tanks common at the time.
The Canadian Intellectual Property Office lists three patents in Olecko's name; the inventions are also patented in the U.S.A.
#770200 1967-10-24 Septic Tank (US #03426903)
#1263234 1989-11-28 Cable Trap (US #4920690)
#2297627 2000-02-03 Trap for Animals (US #3,272,193)
Ray's proudest moment was when he designed the "Boler" trailer. While Olecko was camping with his family, he got the idea of a light-weight camper trailer made from fiberglass. He never made any drawings, but carried the design around in his head. He asked Sandor Dusa to help him create the trailer. Olecko simply drew out the basic lines of the trailer on a large piece of cardboard mounted on the wall and said, "Make it like this." The bed-and-two bunks configuration was specifically designed for Olecko's family. A search of both the Canadian and American patent databases did not turn up a patent for the Boler design. It appears that Olecko and Dusa may not have filed a patent.
Sandor Dusa was born August 3, 1934 in Karcag, Hungary and immigrated to Canada in 1956. Ray had an idea for a trailer and picture that he sketched out with no specifications. Sandor asked where are the specifications and Ray replied that was why he was approaching Sandor. So Sandor, being a master at what he did, looked and calculated. Finally came up with specs and started making the mold.
Seeing possibilities in the new trailer, Olecko and Dusa mortgaged their homes for $5,000 start-up capital and began producing the 13-foot four-berth trailer in an old Winnipeg warehouse. Dusa was the vice president and mold maker. He used to call the Boler his baby. Olecko and Dusa were presented with a Design Award in 1969 by the Manitoba Government Department of Industry and Commerce. Dusa passed away on April 26, 2013. At some point, a third partner named Irwin Krieg joined the project.
Olecko was looking for an unusual name for the trailer, and thinking that the trailer looked a little like a bowler hat, he decided on Boler! On July 19, 1969, the Boler name was trademarked but the trademark was not registered until August 14, 1970.
A little-known and I assume merely coincidental piece of trivia is that the bowler hat was invented in England to allow grounds-keepers on horse-back to pass under branches without getting their hats knocked off and damaged (they previously wore top hats). The bowler hat then gained popularity across all classes in England and became the most popular hat as Europeans expanded into the west of North America. Lucius Beebe (December 9, 1902 – February 4, 1966) was an American author, photographer, railroad historian, journalist, and syndicated columnist who called the bowler "the hat that won the west." So there is some irony that a western company interested in convenient travel chose the bowler hat for a name. (I assume the English origins of the bowler hat have no connection to the expression "Keep Calm and Boler On".)
Forty flat-roofed un-insulated prototypes were produced in the first run. These were later recalled and insulated after they encountered condensation problems. Olecko recalled all 40 to retrofit them with the Ensolite material. This product had been developed by Uniroyal and was being used in the cockpits of airplanes. It was available only in a 2-inch thick size, but he persuaded them to shave it down to 3/16 of an inch, and he cut it into sections to fit the curves of the Boler. He says that the seam tape was a 3M 2-sided tape. When the inside paper backing was removed, of course the surface was sticky, and he solved this problem by simply rubbing talcum powder over it.
The first 100 units were made with a flat roof, but Olecko realized that he could create more headroom by adding the arched extension to the roof. Subsequent models also had the arched roof which, with the rounded ends, gave the "egg" shape.
The first ad for a Boler appeared in the Winnipeg Free Press, July 19, 1968, $1495 at 466 Higgins Ave. and another ad in the Free Press on November 9, 1968 advertising an 800 pound fully equipped Boler for $1695. Initially, Olecko met with dealer resistance, as the Boler price of $1400 was thought to be high at a time when you could still buy an aluminum trailer for $895 (1968). When he simply picked up the hitch and pulled the trailer across the parking lot by himself, dealers were quickly convinced that a lightweight trailer would be popular with the owners of the newer breed of smaller cars coming into vogue at the time.
A feature article about Olecko, Dusa and the Boler appeared in the Winnipeg Free Press on August 10, 1968, with the heading "A Fiberglass Trailer For Compact Travel" saying that it took three months to design and build the trailer and at that time had eight employees. Another article appeared in the Free Press on February 12, 1969 with the headline "International business established overnight." That article quotes Olecko saying that they can barely keep up with demand, that they were setting up several franchises in both Canada and the U.S., that there is a third shareholder, Irwin Krieg, and that the marketing for the Boler was recently taken over by Newline Industries owned by John Sarens. In 1969 the factory was moved to a larger 30,000 sq. ft. facility on Dufferin Street.
A Boler ad appeared in the Free Press on August 16, 1969 mentioning "Manitoba 1969 Design Award Winner" fully insulated with New Space Age Ensolite and $1695. On September 9, 1969 another Boler ad in the Free Press advertised the Boler as a "hunting cabin on wheels".
Another article in the Free Press on April 28, 1971 had the headline "Manitoba Trailer Hot Export," stating that the company started with the mortgages of their homes to raise $5,000 and today the company has annual sales exceeding $500,000. The article mentions franchised manufacturers in Los Angeles, Minneapolis with another soon in Central US and that Olecko was negotiating with three other companies as well.
A report in the Manitoba Business Journal (December–January 1971/72 p. 14) detailed some achievements of the company:
1000 Bolers produced in Winnipeg and Grand Prairie
1971 Sales reached half a million dollars
Eleanor International of Wichita KS signed on to produce Boler's in three plants
Production increased steadily. About 150 units were produced in the second year -1969, and another 400-500 in 1970. In 1971, franchises were sold to companies in Peace River, Alberta (Glass-Fab Industries Ltd.) and in Earlton, Ontario (Earlton Manufacturing; which later moved to Midhurst under the name Advanced Fiberglass, where the last Boler was produced in 1988).
In July of 1971 Duane Eveland was involved in remodeling damaged mobile homes. A factory representative from the franchisee "Boler American" stopped by and watched. Eventually the Boler salesman asked if he would like to manufacture trailers for Boler. The Boler trailer was designed in Canada and Boler American was a company attempting to develop the US market. Duane was interested and together with his brother Gerald Eveland and sister Gladys Coffland negotiated a contract with Boler American in which Eveland's Inc. would manufacture trailers and Boler would market them. Boler American had their own problems and went out of business late in 1972. This left Eveland's Inc. with molds but no marketing company. Duane, Gerald and Gladys discussed things, came up with the name Scamp (they used the name Acorn for one year in 1979), and began building and marketing their own trailer. In 1981, they built the first Casita trailer, based on the Boler mold.
An article in the Oelwein Daily Register appeared November 27, 1971, reporting that Eleanor International Inc. of Wichita Kansas was purchasing Iowa Portable Mill Mfg. Co. which was located in Oelwein, Iowa. "Boler American" was a subsidiary of Eleanor International and placed an order with the newly acquired Iowa Portable Mill company for 5,000 trailer frames to be delivered over the next 12 months to production plants in Tripoli, Iowa, Aurora, Nebraska and Backus, Minnesota.
The Manitoba Business Journal published an article in January 1972 with the headline "Boler trailers move into US market." The article reports that Boler had sold all US manufacturing rights to Eleanor International. Eleanor Intl. employees came to Winnipeg to train at the Boler plant.
By 1972, 4 trailers a day were being built, 220 days a year, with a staff of 23 at the Winnipeg shop (880 per year), with similar numbers at the other sites. Eco and Love Bug both started in 1972 and made Boler Americans. When Boler American failed, they decided to use the molds and came up with new names. ECO stands for Eugene-Cal-Owen, the first names of the owners of Century Mfg. Another Boler derived trailer was the Perris Pacer produced in San Jacito, California from 1974 to 1990.
The Manitoba Business Journal article describes Olecko as an "old-style" businessman who did not seek and refused government assistance and loans to expand the operation. "We knew right from the beginning that we had a winner with the light-weight trailer. You accept government money, then you have accept their advisors, and things start to get badly cluttered up." The article notes that Olecko, Dusa and Krieg are the three owners and each of them works at their manufacturing plant. Olecko said: "That's the way it should be. A man should be prepared to have more than a financial stake in a company like ours; he's got to be prepared to work at it." Olecko and Dusa sold the company to Jim Pattison (Neonex) in 1973, and their involvement mostly came to an end. Neonex had considerable experience, producing the Travelaire, Holidaire, Triple E, Rustler and Otto brand RVs. Neonex Leisure shifted production to Calgary and in 1977 introduced a 17′ version of the Boler that was not as successful as the original 13′ edition. Olecko felt that his design was severely compromised. On June 10, 1977, trademark ownership changed to Boler Manufacturing Western Ltd.; on Oct. 31, 1977, trademark ownership changed to Neonex Canada Ltd. Boler's were "Built with Pride by Neonex" in Calgary, Alberta by "Neonex Shelter Ltd., Boler Division". In 1979, Vanguard Trailers built Boler's in Winfield, British Columbia in 1978. Jim Pattison Inc., the owner of Neonex, still holds the Boler trademark and the registration is still "live," registration Number TMA170511.
Boler trailers live on today, under different names and companies. Their direct descendants still operating are: Scamp (Backus Minnesota), Trillium (Sterling RV in Winfield, Alabama, relocated in 2014 from Calgary Alberta and originally manufactured in Markham, Ontario) and Casita (now its own company operating out of Rice, Texas) are all still manufacturing light-weight fiberglass trailers that started with Boler and Boler American.
Trillium had on its web site the following: "Demand in the industry has moved us into manufacturing a trailer based on the popular Boler trailer of the 1970s, except with the latest technology. The new trailer is called the Outback". In 2014, Trillium is moving from Calgary to Winfield, Alabama and the new name for their trailer is the Sidekick. Their web site says: "Sidekick is the direct descendent of the original Trillium trailer of Markham (Toronto) Ontario, Canada."
Other companies have started their own designs for light-weight travel trailers (examples: http://tab-rv.com/ and the Alto by Safari Condo, Quebec, Canada http://www.safaricondo.com/en/caravanes ). While these are not descended from the Boler, surely they were inspired by them!
This ends the success story of the little trailer from Winnipeg that could! The egg rolls on and we'll have to hold on to our hats to see what the future will bring.