I am going to start this article off with trying to convince you NOT to replace the ensolite insulation on your Boler, there is no alternative that will match the functionality and durability of this material.  It is no longer available so you will be installing an inferior product.  Before replacing first try cleaning the surface, if that does not achieve the results you are looking for you can paint the lining following these instructions Painting Ensolite.
Leaving the walls bare fibreglass or spraying them with truck bed liner are not an alternative, the biggest problem with these trailers is condensation.  Without any insulation the condensation that forms, even from just one person sleeping in the trailer will create enough moisture in the trailer that water will collect and run down the walls.  OK, so you have tried everything or a previous owner has stripped the ensolite out, well all is not lost.  In my opinion there are a number of alternatives that can be used on the wall, most involve the frustrating process of fitting and sectioning pieces to conform to the compound curves of the walls and ceiling.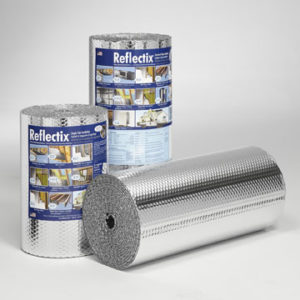 Option #1 – Reflectix silver bubble insulation, this is a reflective radiant type insulation available at most home improvement stores.  It is very inexpensive, use a good quality contact cement to adhere it to the walls.  With the interior of your Boler now looking like the inside of a stainless steel mixing bowl, most want to make it look better.  The standard covering is to use Marine Hull Liner, this can be found in a material, carpet or soft vinyl type materials, it stretches so it is easier install and conform to the compound curves using 3M General Trim Adhesive.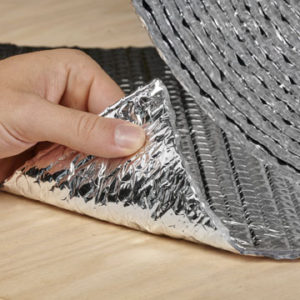 Option #2 – Closed Cell Foam covered by Marine Hull Liner, like the original ensolite you can cover the walls with a 1/4″ closed cell foam like ensolite, neoprene or similar.  Closed cell foams do not absorb any moisture making them very suitable for this application, in fact this is what was used originally except does not have the tough vinyl covering.  Working with the foam is similar to the Reflectix, the foam is adhered to the wall with a compatible contact cement or 3M General Trim Adhesive followed by covering with marine hull liner.
Option #3 – Carpet, probably the least popular alternative is Olefin (polypropylene) carpet which is still used today by companies like Casita as their wall covering.  Using carpet you are installing a lower level of insulation but you don't have to add a cover layer.  Also with carpet the seams are fairly easy to hide.
Option #4 – Thermal Cork Insulation, this is a new product on the market designed for commercial and residential use, it need to be applied by a professional using spray equipment which would increase the cost but the product appears to have all the desired qualities needed.  I am sure there are a number of companies offering this product, the link is one I know will be coating several Boler's this spring